Tempo de leitura:
3
minutos
Cosy, quiet and with menus to feast your eyes on (and more). If you're tired of studying or working at home, take a look at our list and settle in at one of these cafes in Lisbon.
Although the idea of being with a computer on your lap, on the sofa, sunk in blankets is tempting, studying or working at home is not always the best option. Now the neighbor's dog won't stop barking, now you get the notification that a new episode of your favorite series has premiered and temptation speaks louder. So, the best thing is to get out of the house and find a place that encourages you to be better and to work.
Of course, without too many distractions around.
Studies have shown that studying in a cafe can positively influence your productivity and that background noise, when substantially reduced and controlled, can even stimulate your creativity. So, no. Studying in a cafe is a go to for a lot of people and, for some, it's the only environment conducive to good professional performance.
If this is your case, but you don't know some quiet places in Lisbon with a good menu, take a look at the list below – we've put together 6 ideal cafés for studying or working in the capital.
Dear Breakfast
Rua das Gaivotas, A7, Lisbon| 91 228 1082 | Monday to Friday, from 9h to 16h. Saturday and Sunday, from 9h to 17h
Why pay for brunch or waste time choosing your snack or lunch when there's a place in Lisbon that serves breakfast until four in the afternoon? With eggs benedict, avocado toast, salmon salads and much more.
Located in Rua da Gaivotas, in Lisbon, Dear Breakfast is the ideal cafe for those who want to work in a calm, quiet place and with a menu full of healthy options. Not to mention that, in terms of decoration, Dear Breakfast is worthy of an Instagram feed. Whether in the main room or in the second room, which the space inaugurated later, both work as a real office.
The Therapist
Lx Factory, Rua Rodrigues Faria, 103, Lisbon. 21 601 8227. Monday to Sunday, from 9h30 to 18h.
With a (more than) quiet environment, at The Therapist, even the menu works as the petrol you need to work efficiently and healthily – as, in this space in Lx Factory, "food is a therapy", as you can read on the space's official website.
In addition to a cafe (with a menu full of vegetarian options, but not only), The Therapist brings together various therapeutic practices, ranging from bibliotherapy to traditional Chinese medicine or even naturopathy to Ayurvedic medicine. This way, you can make the most of your time, either during work breaks or once your working hours are over.
Heim Cafe
Rua de Santos-o-Velho, 2 e 4, Lisbon. 212480763. Monday to Sunday, from 9h to 18h.
Neighbour of the French Embassy in Lisbon, this place is as aesthetic as it is peaceful. It also has a menu full of healthy (and Instagrammable) options.
From brunch varieties to waffles, it's the ideal space for those who want to work, with the guarantee that the break between meetings will be tasty, to say the least.
A Luz Ideal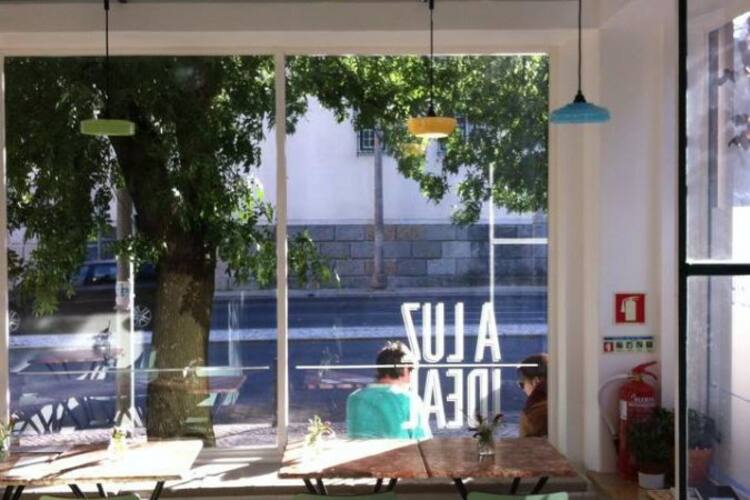 Rua General Schiappa Monteiro 2A | 211 362 793 | 9.30am-7.30pm and 9.30am-7.30pm on Saturday. Closed on Sunday
Located in the São João neighborhood, this is a place where tranquility is the main focus and the (lack of) light will never be a problem. As the name suggests, it has a giant window overlooking the neighborhood, which gives the place an "ideal light" for studying or working.
But it's not just the brightness that makes this place great. If you get hungry, there are cakes, yogurts with granola and much more. All made in-house. Ideal for a light afternoon of study- and with a (tasty) snack in between.